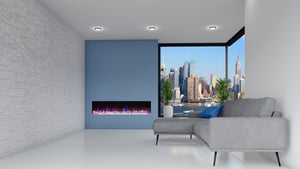 AF1900L glass front colour changing
£2,10000

£2,100.00
Tax included.
---
---
The AF Landscape HD fire is a popular single sided fire which can be inserted into a feature wall or incorporated into a fireplace.
This landscape fire is designed around the customer, to give them the optimum flame effect at a touch of a button.
The AF Landscape HD fire comes in a variety of different sizes like a 900mm wide fire, 1300mm wide fire or the 1900mm wide fire and allows you to choose the best size for your room setting.  
Even though the AF Landscape HD fire has a simplistic look to it, when the flame picture is turned on, the choice of over 1000 colour combinations of flame colours, down light colours, a very realistic flicker flame fuel bed and 4 brightness settings, coupled with the choice of clear crystals, white stones, coals, embers and logs, give this fire a visually stunning look to any room.
Furthermore, our fires are fitted with long life LED's which give greater reliability and energy efficiency properties.
– Realistic flame effect
– Comes in various landscape sizes
– Affordable alternative to gas fires
– Remote Control, mutual Control
– Changeable fuel bed: Coal, Clear Crystals, White Stones and Logs
– LED flame technology – low energy use
– Changeable flame and fuel bed colors
– Dimmable flame settings
– Digital thermostat with 2 Heater Settings
– 7 day timer
– Can be installed underneath a TV
– Low carbon footprint
– 240 volts plug
 
     W                 H                 D

 

AF  900 LAN

 

 900mm   x   600mm   x   175mm

AF 1300 LAN
1300mm   x   600mm   x   175mm
AF 1900 LAN
1900mm   x   600mm   x   175mm
Please contact us if you are interested in this product.