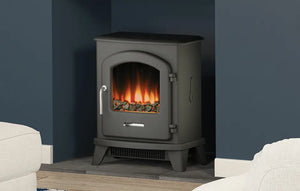 BeModern Serrano
The compact size and timeless styling would tempt you to place the cast iron SERRANO in the bedroom. In its electric version there's nothing to stop you. Plug in, switch it on and sit back to enjoy its restful, flickering ambience. Like all Broseley electric stoves, it's soothingly quiet. If tomorrow you fancy moving it to liven up the conservatory, that's your privilege.
Up to 2kW heat settings
Panoramic viewing window
Realistic flame pattern
Concealed heater controls
Optional top flue spigot
No chimney or fireplace required
Robust cast iron
Thermostatic controls and flame only effect
7 Day Programmable Remote Controlled
Width – 430mm
Height – 545mm
Depth – 265mm
Dummy flue outlet size – 125mm (5″)
Weight – 37.3kg
Please contact us if you are interested in this product.